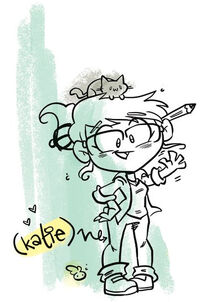 Katie Cook (born on December 9, 1981)[1][2] is the writer and artist of Nothing Special. Though she loves all the series she's worked on, Katie states this one is special because it's all hers.
She is an aficionado of flannel PJ pants. She and her husband have two daughters, two dogs and a cat. Her oldest daughter is a big fan of Nothing Special but Katie will not let her get any spoilers.
In her professional career, she has worked as a writer, illustrator and cover artist on comics for Marvel, the My Little Pony Friendship is Magic and Equestria Girls comics for IDW, Fraggle Rock and Jim Henson's the Storyteller comics for Archaia Studio Press, and miscellaneous issues of Tangeled: The Series, Munchkin and Adventure Time Comics.
Katie has also written and/or illustrated a series of young reader and young learner Star Wars books, two books on the "joys" or owning a cranky cat, a coloring book title Fangirls: A Coloring Book for Girls That Like Stuff (ISBN: 9781682611210) and an instructional book titled Drawing Cute with Katie Cook: 200+ Lessons for Drawing Super Adorable Stuff (ISBN: 9781440352300).
From 2010 to 2015, Katie drew Gronk: A Monster's Story, her first webcomic. Gronk occasionally appears in episodes of Nothing Special.
Gallery
External links
References